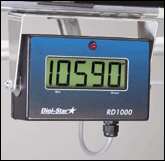 Remote Displays



RD 1000
The new RD 1000 Remote Display was designed to mount on the driver's outside mirror, to make the unloading process to feed bunks easier and more convenient. No more looking back and forth to the indicator inside the truck cab and the feed bunk. The RD 1000 lets the driver keep his eyes where they need to be. (Mirror mount bracket comes separate)

Features and Functions:

Weight Display - 6 digit, 1"x4.2" alphanumeric LCD with functional annunciators.

Fiber Optic Backlighting

Built-in super bright LED visual alarm.

25' attached cable

Housing - 6.5"x4.25"x2.5"