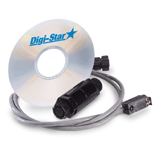 Data Transfer



DDL Data Downloader
Robust enclosure is durable and weather proof.

Easy and accurate storage and transfer of data between Scale and PC.

64k of storage. (1600, 40 character lines)

Compatible with Windows 98 and 2000.

Compatible with all OMP and EZ Indicators, works off J904 port on Indicator.

Compatible with all EZ foreign language formats.

No serviceable parts.

No battery to wear out.

Computer Hardware [special note about laptops]
PC Operating system
Windows 98/2002
Compatability Issues
None
Foreign Language
Yes
Storage Capacity (40 Character line amount)
1600 (64 KB)
Bi-directional Communication
Yes (with EZ 3500 only)
Port Connections
J904/J905
Computer Port
Serial
View and Print Ability
EZ 150/210/320
Printer format only
EZ 2000/V
Printer format only
EZ 3200
Printer format only
EZ 3500
Text and CSV formats
Save Function
Format
*.txt
EZ 150/210/320
Printer format only
EZ 2000/V
Printer format only
EZ 3200
Printer format only
EZ 3500
Text and CSV formats
Product Package
Interface cable, DataKey module, Memory converter, Data Utility Software, Cable, Module, Manual